The Japanese character 'bu' as in 'bushido' consists of the character meaning 'to stop'. Therefore the real meaning of bushido is not 'to fight' but 'to stop using weapons and to stop fighting'. This is the message that should be read from his teachings.
The implementation of good basics is important. These do not and must not change. To keep good principles and to strive to improve one's own bad habits and bad movements is imperative.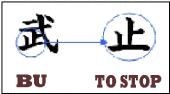 As the basics are learnt, they should be applied to other and more advanced techniques gradually.
The teachers should teach this to students and encourage them to be gentle to each other.
Our reason for studying Aikido should be for self-development and to learn how to and about helping others and to a lesser extent to fight with each other.
All must enjoy what Aikido gives.
'Bu' El carácter japonés como en 'bushido' consiste en el sentido del personaje para parar ". Por lo tanto el verdadero significado del bushido no es "luchar", sino "dejar de usar las armas y dejar de luchar". Este es el mensaje que debe leerse de sus enseñanzas.

La aplicación de buenos fundamentos es importante. Estos no lo hacen y no debe cambiar. Para mantener los buenos principios y esforzarse por mejorar su propios hábitos malos y los movimientos malo es imperative.

As los conceptos básicos se aprenden, se deben aplicar a otras técnicas más avanzadas y poco a poco.

Los maestros deben enseñar esto a los estudiantes y animarlos a ser amable con los demás.

Nuestra razón para el estudio de Aikido debe ser para el desarrollo personal y para aprender cómo y sobre ayudar a otros y, en menor medida para luchar entre sí.

Todos tienen que disfrutar de lo que le da el Aikido.